A quick perusal of recent news stories using the keyword "counterfeit money" reveals the most simple and clear evidence that counterfeiting of US dollars is still a thriving industry. Many people assume that – with the pandemic causing lower volumes of in-store transactions - counterfeiting activity would similarly be much lower. But the data does not support this.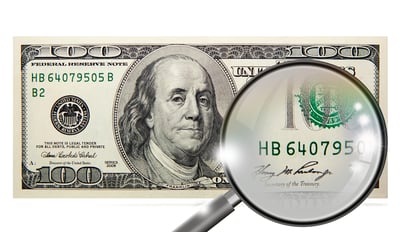 Also important is to note that counterfeiters are not acting in large metropolitan areas exclusively. Counterfeiting in smaller towns and local markets is on the upswing.
Here are just a few stories from the past week:
Capitol Heights (Maryland) Man Pleads Guilty to Manufacturing and Passing Counterfeit Currency
Department of Justice - Tuesday, March 2, 2021
"……..The Secret Service collected evidence from dozens of instances in which defendant and his co-conspirators passed counterfeit currency. For example…….. (defendant) purchased one package of diapers for $26.49 using one counterfeit $100 bill. The next day, defendant returned the diapers, as well as some items purchased by a co-defendant, in exchange for genuine currency. The Secret Service recovered eight counterfeit $100 bills used by defendant and his co-conspirators during transactions on as well as video recordings and receipts reflecting their criminal activity."
Local officers conducted multiple traffic stops on vehicles operated by defendant.
"In the first instance, the defendant attempted to run away, but was apprehended. His vehicle was then searched, and officers recovered 18 counterfeit $100 bills, as well as defendant's cell phone, which contained text messages indicative of passing counterfeit bills. In the second instance, defendant again ran away and attempted to discard counterfeit currency into a trash can. Law enforcement searched the trash can and recovered 13 cut counterfeit $100 bills displaying the same serial number, 27 pages of uncut $20 bills displaying three repeating serial numbers, and a key to the vehicle from which defendant fled. defendant's fingerprints were subsequently found on the first three pages of the uncut counterfeit $20 bills."
"…….. defendant was responsible for passing between $95,000 and $150,000 in counterfeit currency. As part of his plea agreement, the defendant will be required to pay restitution in the full amount of the victims' losses, which the parties agree is at least $95,000."
Counterfeit currency creates complications for local businesses in Carbondale, Jackson County (Illinois)
Daily Egyptian - March 2, 2021
"…….Officer Brandon Weisenberger, of the Carbondale Police Department, said Carbondale is a prevalent target for counterfeit currency due to individuals of the community having enhanced technological skills. Also this area has a higher volume for information that's shared with other regions of the state.
"Forgery is the official legal term in Illinois, when you're talking about counterfeiting actual physical currency, or credit cards, and debit cards," Weisenberger said. "But I think the reason why you see a lot of documentation of that in Carbondale and Jackson County is that here in this area, we have a lot of media outlets. So we have a higher volume of information that's being distributed and kind of comparable regions in southern Illinois."
Weisenberger said during his time as a patrol officer, he's seen a mix of local residents, SIU students and individuals passing through town attempting to use counterfeit bills.
"In my experience, I've been a cop here for ten years and I've specifically worked in financial crimes here for five years, and I saw a pretty even mix. There are many degrees and different methods of how you can commit forgery and how you can pass counterfeit currency. So I've seen it among the college population, I've seen it among our locals, I've seen it among different people just passing through town," Weisenberger said."
Carbondale, Ill., is made up of 25,902 residents, with nearly 15,000 students attending Southern Illinois University. In addition, more than 1,200 faculty and staff members work and live in the SIUC community.
Mississippi Co. Sheriff's Dept. warns of fake bills
KFVS - February 25, 2021
"MISSISSIPPI COUNTY, Mo. (KFVS) - The Mississippi County Sheriffs Department is asking local businesses to be aware of the possibility of people passing fake currency within the area."
Callaway County Sheriff's Office reports 7 felony arrests
Fulton Sun - Feb. 25 2021
"Recent patrols and investigations resulted in seven arrests over the last week, according to the Callaway County Sheriff's Office."
Counterfeiting is alive and well in the US today, and what these stories reveal is that it isn't always about large, multi-national crime syndicates. More often than not, the crime is being perpetrated by local "home grown" counterfeiters who have learned their forgery skills from the internet and use commonly available desktop publishing software and printers to make their counterfeit money.