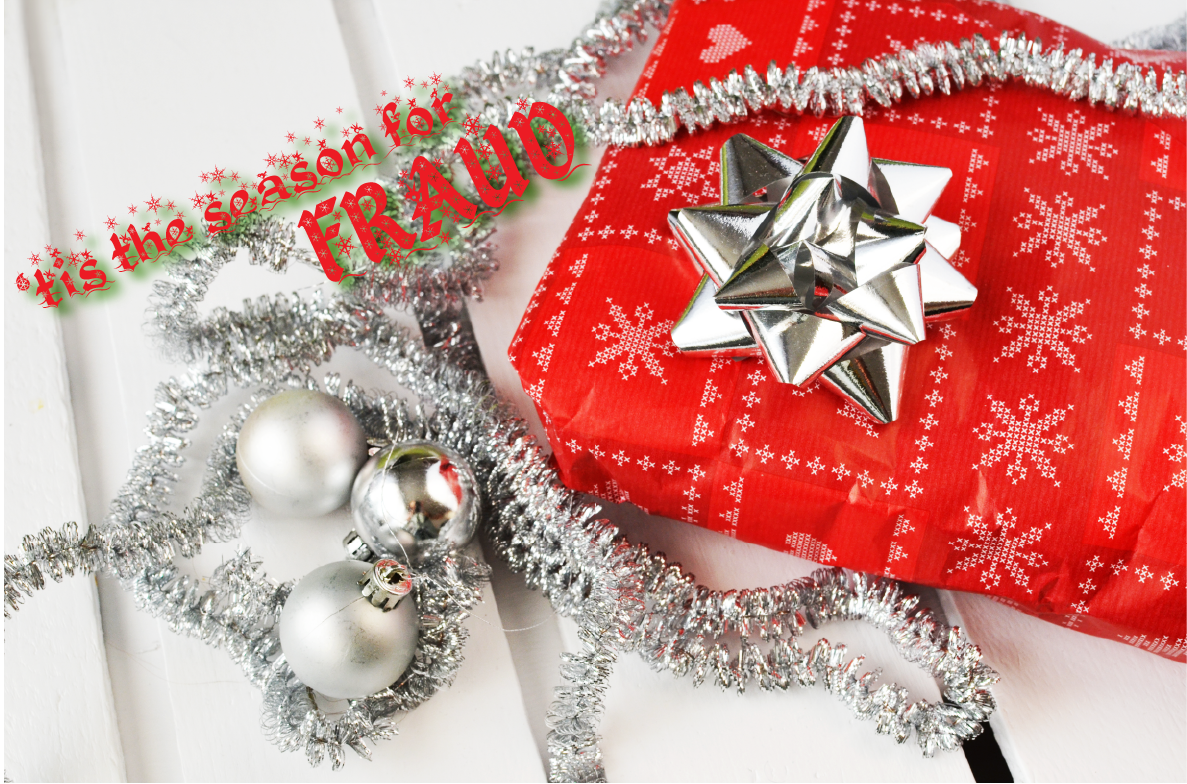 Traditionally, the day after Halloween has been reserved for the Catholic observance of All Saints' Day and, in Mexico, Día de los Muertos. But in the recent years, the day after Halloween has instead come to be known as the first (un)official day of Christmas decorations. Head to the mall the day after Halloween and you'll be sure to already hear familiar songs about Santa Claus, angels, and snow playing over the speakers in all the department stores. And with the embellishments of Christmas decorations and ambiance comes the preparation for what the holidays are really about: presents.
For consumers, the days between Halloween and Christmas are defined by the general chaos of spending an inordinate amount of time shuffling in and out of shops, both in-store and online, trying to find the perfect present for the most ideal price for each person on their shopping list. For retailers, the days between Halloween and Christmas are spent in a much deeper state of chaos: frantically deploying resources during all hours of the day to meet the dramatic increase of customers' needs and demands during the holidays – all while keeping their bottom line intact.
Expected Holiday Season Sales for 2015
"It is that magical time of the year for retailers. The period between mid-October and late December can often make the difference between success or failure in the retail industry, and this year will be no exception." -Infowars
The holiday season has historically been the busiest time of year for retailers, and this year, with an estimated $630.5 billion in sales to be made this holiday, it is shaping up to be the busiest holiday season on record. In fact, the 10 busiest sales days of the year all occur in November and December; the following days are predicted to be the biggest sale days for 2015: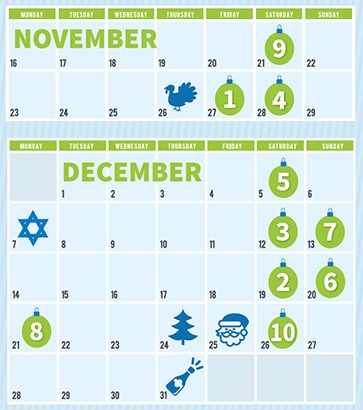 Black Friday
Super Saturday (last Saturday before Christmas)
2nd Saturday before Christmas
Saturday after Thanksgiving
Saturday after Cyber Monday/first Saturday in December
Sunday before Christmas
Second Sunday before Christmas
Monday before Christmas
Saturday before Thanksgiving (Nov. 21)
Day after Christmas
Sales during the holidays account for 20-40% of the average retailer's total annual sales, with sales during the winter holidays outpacing the total spent during all other holidays combined by hundreds of billions of dollars.
Holiday Spending Totals In Billions, 2015
Information
Seasons with the * indicates the data is from the 2014 Monthly Consumer Survey
Charts from the NRF Foundation's Retail Insight Center. To access this data and more research please visit the Retail Insight Center.
The National Retail Federation predicts that "sales in November and December (excluding autos, gas and restaurants) to increase a solid 3.7 percent to $630.7 billion – significantly higher than the 10-year average of 2.5 percent. Online sales are forecast to increase between 6 and 8 percent to as much as $105 billion." Consumers are expected to spend an average of $805.65 this holiday season.
In fact, what Americans plan to spend on Christmas this year is greater than the yearly GDP of the entire nation of Sweden. –Infowars
Holiday Retail Fraud
Retailers of recent years have been all too aware of just how rampant it can be. Fraud prevention is key during the holidays: when surveyed, one retail loss prevention executive is quoted to have said "Improve pre-holiday sales staff training" when asked when he will be doing differently for Holiday 2015.
In order to combat fraud through fraud prevention during the holidays, retailers need to pinpoint the types of fraud that are most prevalent during the rush of holiday sales. Some of the most common types of holiday sales fraud are the use of counterfeit money, return fraud, and gift card fraud.
Cash is King
With the convenience and the almost universal acceptance of debit and credit cards, it could be assumed that consumers will rely heavily on payments in the form of cards. However, due to massive data breaches in the past few years at the some of the largest retail chains, such as Target, and financial institutions, such as JPMorgan Chase, fresh on the minds of consumers, many have expressed their intent to make as much holiday purchases as they can with cash.
Take Karen Swim, a 50 year-old marketing professional from Sterling Heights, Michigan, for example, who had been planning on shopping at Target the day their data breach was announced:
"It could have happened to me, so it freaked me out . . . . I've already been a victim of a cyberattack on my website, and that was difficult to fix it."
Karen currently uses cash for the majority of her shopping, not matter the time of year.
According to an NRF survey, consumers are planning on doing the majority of their holiday shopping at discount shops and department stores, supplemented by shopping online, at grocery stores, and clothing/accessory shops. It is estimated that 46.1% of all holiday sales will occur online, meaning that 53.9% of all holiday sales will occur in-store.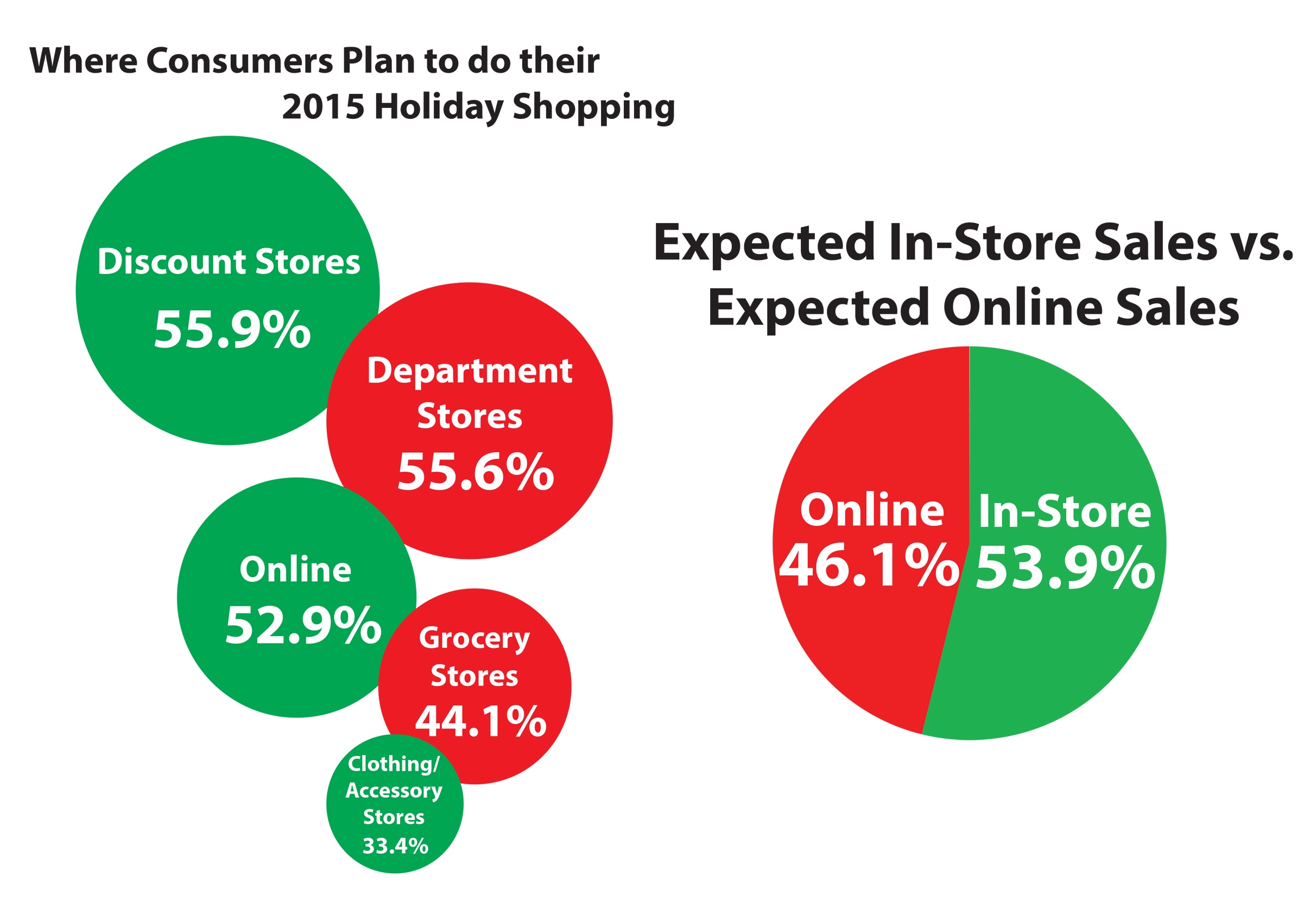 Considering the fact that over half of all sales – meaning a little over $315 billion – will occur at in-store locations where cash is an acceptable form of payment (versus the online environment). Of course, this isn't to say that retailers should expect consumers to suddenly spend nothing but cash over the holidays; it simply means that retailers should expect to deal with more cash this holiday season than previous years. and with this influx of cash, counterfeit money, which has only become easier and easier to make thanks to advances in technology, will be even harder to detect:
"We're always seeing an increase in counterfeiting during the holiday season . . . . People are printing their own money in their home with all in one printers, going down to Walmart, K-mart, Sears, Macys, all the stores." – John Rotella, United States Secret Service Resident Agent in Charge, Reno
Movies and television shows have created the idea that criminals use counterfeit cash when making illicit deals with each other, but in reality, this is simply not the case. Counterfeiters actually have a difficult time finding clientele for the fake money stateside; instead, they sell the counterfeit cash to foreign criminals who can more easily spend counterfeit us cash overseas.
Consider the words of ex-counterfeit money mastermind Frank Bourassa:
"We'd been talking to some drug guys, heavy workers who were moving cocaine . . . . But to [my] surprise, guys who were perfectly comfortable shipping cocaine by the container load drew the line at phony bills. 'No thanks, and be careful' was where that conversation ended . . . . 'I was saying to myself, Jesus Christ! These guys were doing a lot worse than moving counterfeit bills, and they're telling me to be careful? Are they screwed up?'"
And once the fake money is spent, it quickly finds its way into the hands of the unsuspecting public and back into the US.
With both individuals at home and criminal masterminds creating counterfeit cash, retailers can be sure that some of this counterfeit cash will find its way into their stores.
Whenever there is an expected uptick in sales, especially during the holidays, you can expect that there will also be a reciprocal uptick in fraudulent activities. And with $630.5 billion in expected holiday sales, there is sure to be a proportional rate of fraud, especially return fraud. It was estimated in 2014 that holiday return fraud cost retailers about $3.8 billion.
What is Return Fraud?
Return fraud is exactly what it sounds like: the attempt to defraud a store through its return process. From the National Retail Federation:
"Return fraud has become an unfortunate trend in retail thanks to thieves taking advantage of retailers' return policies to benefit from the cash or store credit they don't deserve." –Bob Moraca, NRF Vice President of Loss Prevention
Return fraud can take various forms, with the following types retailers need to keep an eye open for most during the holiday season:
Stolen merchandise – returning stolen merchandise for profit, if without a (falsified) receipt, the profit is usually store credit
Receipt fraud – returning merchandise for profit using a reused, stolen, or falsified receipt; also describes returning merchandise purchased on sale or at a different store using an altered receipt with the intent on profiting from price differences

e-receipt fraud – similar to regular receipt fraud except merchandise purchased online is returned in-store using an altered receipt to profit off a price difference

Fraudulently purchased merchandise – returning merchandise that was purchased using a fraudulent/stolen method of payment, such as counterfeit cash
Employee fraud – returning stolen merchandise through a crooked employee; also describes a crooked employee recording a non-existent return to pocket the return payment
Wardrobing – returning merchandise that was purchased with the intent of short-term use for a special occasion; for example, buying a plasma big-screen tv to watch the super bowl and returning it after the game is over
Although 'return fraud' sounds like a rather niche kind of fraud, 92.7% of retailers polled said that they experienced return fraud in the form of stolen merchandise during the past year, with 78.2% of retailers stating that one or more cases of return fraud involved an organized retail crime group. in fact, the survey found that 5.5% of returns, which amounts to approximately 1 in 20, are done by con artists. these levels of return fraud by organized retail crime groups can seriously threaten retailers' bottom lines.
What is Gift Card Fraud?
During the recent years, gift card fraud has become more and more frequent due to the rising popularity of giving gift cards as presents. Gift card fraud typically describes a process in which a criminal obtains a list of gift card numbers from gift cards on display either by discreetly writing them down or skimming them using a card reader. he/she will then check the gift card numbers online until one of the listed cards has been purchased and activated. once the gift card has been activated, the criminal can then transfer the balance on that gift card to another card or convert the balance into cash, leaving the person who received the gift card with zero balance.
As popular as this type of fraud may be, it "is fairly low-level and does not result in a huge loss to the merchant" as gift cards have a finite amount that rarely enters the triple-digits. however, the issue with gift card fraud is more symbolic than financial: "Some retailers will reimburse the customer with the face value of the gift card, but this ends up being a reputational hit for the retailer, as well as a headache for the consumer."
How to Protect Your Bottom Line during the Holidays
As Independent Mail correctly points out:
For any business, the loss comes out of their bottom line; small businesses can't afford to lose much.
To minimize loss and protect the bottom line, businesses of all sizes should at least do the following:
"Staffing and training are a significant investment area for loss prevention executives. Among other measures, store associates could receive additional training on topics such as inventory preparation, safety, cash handling best practices, shipping and receiving, among others. Temporary or seasonal staff, too, will get training this year, likely with a focus on preventing shoplifting and fitting room theft. Training may also be facilitated by tablet devices and webinars to efficiently and effectively deliver the training to any store staff who needs it." – National Retail Federation 2015 Holiday Planning Playbook
In addition to training both full-time staff and seasonal staff in all areas of loss prevention, retailers should also consider implementing the following solutions to combat all types of holiday fraud:
The problem:

Counterfeit money

The solution: The first thing all retailers should do

now

when it comes to detecting counterfeit money is to simply give your employees instructions to be extra vigilant when it comes to cash transactions. Kim Nelson, a lieutenant with the Darlington Police Department in South Carolina warns that "[s]ometimes we are so quick and caught up in the holiday season we don't check our money . . . . So take a few minutes to check your money to see what you're receiving." Retailers should also heed the advice of Matt Anderson, a detective at the Anderson Police Department in South Carolina, and be more critical of denominations $20 and under than of $100 bills:


"While the $100 note is the most often counterfeited . . . . We see quite a bit of counterfeit $10 and $20 bills. People usually start with the smaller bills because businesses do not always check the smaller bills, but almost always check the $50 or $100."

Of course, eyeballing money is nowhere near a surefire method of detecting counterfeit bills. As John Rotella, the afore-mentioned Secret Service agent notes: "Some printers are so sophisticated, it's difficult to tell if bills are fake." Thankfully, counterfeit bills are easy to detect using UV lights: "Another way you can tell if the bill is real or fake is use a UV light to check the security detail on some of the newer bills."
The problem:

Receipt fraud

The solution: Require identification to be shown when returning merchandise

"Retailers estimate that 12 percent of the returns made throughout the year without a receipt are fraudulent and as a result, 70.9 percent now require customers returning items without a receipt to show identification. Even when a receipt is present, more retailers polled this year say they ask for identification (25.5% versus 12.3% last year.)" -NRF
The problem:

Gift card fraud
The problem:

Non-EMV compliant point-of-sales terminals

The solution: If you weren't aware, merchants needed to upgrade their POS terminals to be EMV-compliant lest they want to be liable for all financial losses from credit card fraud. You can either upgrade all your POS terminals or supplement your existing POS system with a counterfeit detection unit.
Is your loss prevention protocol up to industry standards?
Let us help you determine if your loss prevention protocol is fraud-proof.

Want more information about preparing your business for the holiday season?
Check out our past blog posts about the holidays: