Just a little over 5 months into 2016 and there are already multiple discoveries of counterfeit money operations, several of which had produced over $1 million in counterfeit money.
The following is a list of the top 5 counterfeit money stories so far this year, starting with the largest counterfeit money operation. At the end of this list, there are a bonus 3 counterfeit money stories. These stories do not involve large counterfeit money operations, rather, they are used to highlight that counterfeit money can appear anywhere, anytime, from anyone, not matter how small the amount.
It should be noted that these counterfeit money stories are those that have been disclosed – there are likely many more counterfeit money operations yet to be discovered or publically disclosed.
1.
How much was counterfeited? $693 million
Where? Nairobi, Kenya
When? January 18, 2016
Who? Ousman Ibrahim Bako, a Cameroon national; and Mohammed Sali (alias: Dr. Mustafa), a Niger national
How? After receiving a tip that a man had been duped by two men when he exchanged real Kenyan money for counterfeit US dollars and euros, Kenyan law enforcement officials arrested Bake and Sali. Joseph Boinnet, the Inspector General of Police, suspected that the two men are "kingpins coordinating a Trans National Counterfeit Hard Currency ring aimed at fleecing unsuspecting persons colossal amounts, both within the country and across borders."
After a search of one of the men's homes, officials discovered 6,931,000 counterfeit $100 U.S. bills, for a total of $693,100,000 in counterfeit money. They also found 739,200 counterfeit 500-euro bills, which amounts to €369,600,000. In addition to the counterfeit currency, money printing machines, scanners, money cutting tools, safes, two computers, chemicals (such as iodine), masks, and foil paper were found at the man's home.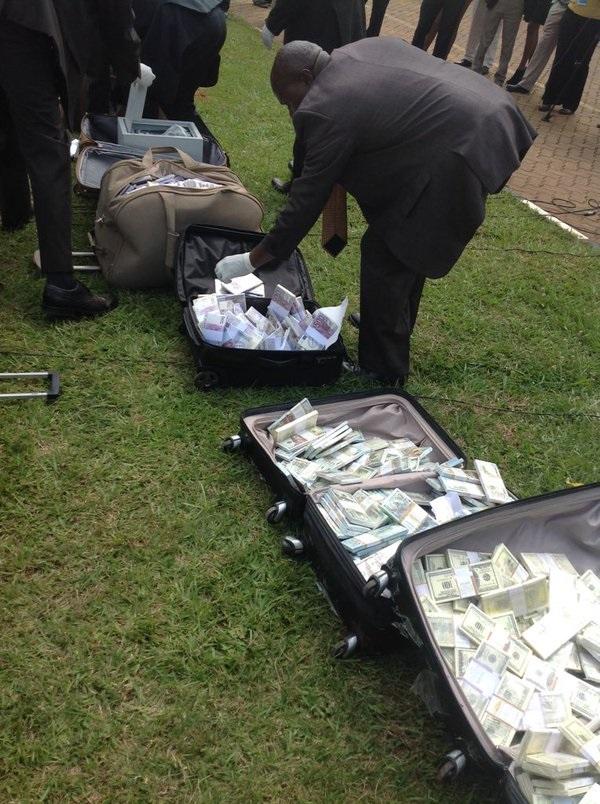 They are currently awaiting sentencing, after being denied bail on the grounds that they have been determined to be flight risks.
Sources:
2.
How much was counterfeited? $5 million
Where? Northern California: East Bay/Alameda County, Stockton
When? February 24, 2016
Who? Undisclosed
How? Federal and state law enforcement officers conducted seven simultaneous raids across Northern California early one morning this past February, putting an end to a $5 million counterfeit money operation. Houses in Oakland, other parts of Alameda County, Castro Valley, and Stockton raided.
Law enforcement officials are not releasing the names of those suspected, "citing an order by a federal judge to keep all records sealed until further notice", although they have stated that at least one suspect has been arrested and that boxes upon boxes of evidence had been seized. It is typical that in the course of a counterfeiting investigation, identities as well as other details related to the investigation are not released until years after the arrests have been made in order to protect the integrity of the investigation.
There is reason to believe that this $5 million counterfeit money operation is linked to another counterfeit money operation that was taken down in 2012.
Sources:
3.
How much was counterfeited? $4.65 million
Where? Detroit Metro Airport
When? February 12, 2016
Who? A Vietnamese couple (their names were not released)
How? On February 12 at Detroit Metro Airport, a Vietnamese couple heading through customs after disembarking from a flight from Seoul, South Korea was stopped after they gave conflicting information about how much money over $10,000 they were carrying into the United States.
For all passengers arriving in the United States, the U.S. Customs and Border Protection requires that all money in excess of $10,000 be declared on an official Customs form; this is simply a reporting requirement – no taxes or fees are paid on this money, contrary to popular belief.
Upon a search of their luggage, "93 bundles of counterfeit U.S. $100 bills and 32 bundles of counterfeit Vietnamese Dong" were discovered. The 93 bundles of counterfeit U.S. $100 bills totaled $4.65 million; the amount that the 32 bundles of Vietnamese dong totaled was not reported.
The couple claimed that the counterfeit money was actually "hell money", which is a type of 'monetary' offering made to the deceased in many Asian cultures: the money is burned in order to provide for the deceased's well-being in the afterlife.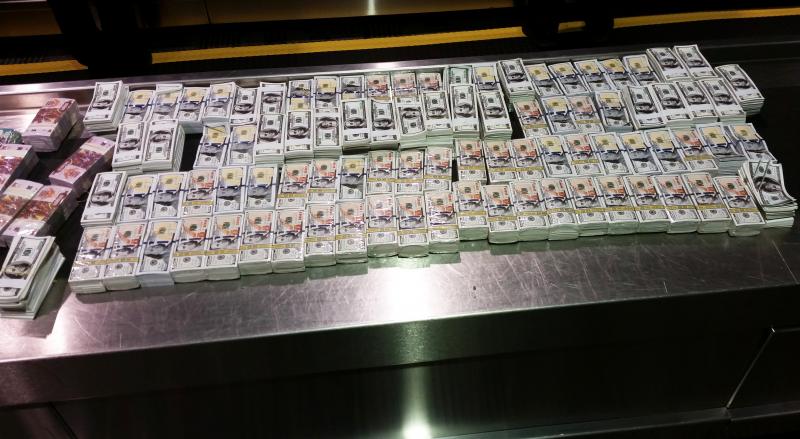 Federal law enforcement officials ultimately seized all the counterfeit cash. Devin Chamberlain, U.S Customs and Border Protection port director, used the opportunity to remind people that "[a]ttempting to import any amount of counterfeit money, regardless of intended purpose, can have serious implications for arriving travelers."
Sources:
4.
How much was counterfeited? $3.5 million
Where? Riga, Latvia
When? April 15, 2016
Who? Undisclosed
How? On April 15, Latvian law enforcement officials, with support from the U.S. Secret service and Europol, led a raid on a business suspected of being the center of a counterfeiting operation in Riga, the capital of Latvia. During the course of the raid, $3.5 million in counterfeit U.S. bills was discovered along with €200,000 in counterfeit euro bills.
A printing press was also discovered during the raid. Although seven people were arrested initially, four of those seven have remained in custody. Latvian authorities considered "this is a very sophisticated operation, a very serious operation that we have not encountered that often. This was a very sophisticated plant with very high capability of pumping out a lot of counterfeit."
ASV slepenā dienesta un @ValstsPolicija pārstāvji preses konf. demonstrē iegūtās viltotās USD un EUR banknotes. pic.twitter.com/9RAp4P4i8w

— US Embassy Riga (@USEmbassyRiga) April 28, 2016
The identities of the four individuals along with specific details of the counterfeiting operation were not released because "officials were understandably reluctant to release too many details of an investigation they said was still ongoing as a widespread counterfeiting network was involved."
According to Latvian police, this was the largest discovery of counterfeit money in Latvian history.
Source:
5.
How much was counterfeited? $2 million
Where? Taipei, Taiwan
When? March 7, 2016
Who? 9 people: 8 men and 1 woman
How? After discovering that they had received suspicious-looking U.S. bills, a Mega International Commercial Bank brank in Taipei altered Taiwanese authorities. A total of $2 million in counterfeit U.S. $100 bills had been successfully exchanged for NT$66 million in Taiwan new dollars.
After an investigation, arrest requests were made and granted for 9 individuals, 8 men and 1 woman, in connection with the counterfeit money. These individuals were suspected of taking "counterfeit U.S. dollars to the bank to see if they could evade detection and create the opportunity to exchange large amounts of counterfeit bills later."
Once they felt satisfied that the bank couldn't detect the fake bills, the group fraudulently exchanged a total of $2 million for real Taiwanese money. The received Taiwanese money was then deposited into bank accounts at other banks, where it was then all withdrawn and is suspected to have been laundered abroad.
The 9 individuals are still in custody – they have refused to give up neither the leader of the counterfeiting ring nor the location of their counterfeiting base of operations.
Sources:
Notable Mentions
The Case of the Counterfeit $2 Bill
How much was counterfeited? $2
Where? Christa McAuliffe Middle School in Houston, Texas
When? April 28, 2016
Who? Danesiah Neal, an eighth grader at Christa McAuliffe Middle School
How? During lunchtime at school, Danesiah Neal paid with a $2 bill for her chicken nugget lunch. However, the cafeteria workers did not believe that the $2 bill was real so they ran a counterfeit detection pen (which is actually not very effective at detecting counterfeits) over the bill – the pen indicated that the bill was counterfeit.
Danesiah, hungry and unfed, was sent to the "police office", the school district's own police department. Danesiah told the officers there that her grandmother had given her the $2 bill to pay for lunch.
Danesiah's grandmother, Sharon Kay Joseph, was then called to come down to the school. Officers asked her if she had given Danesiah the $2 bill, and when she said that she did, they asked her where she had received the bill. Sharon told officers that she had received the $2 bill as change at a local convenience store and when officers went to the store to check out her story, the store confirmed that Sharon had indeed received the bill there.
Officers then went to a bank to check out the authenticity of the bill – much to their surprise, the bill was actually real. The counterfeit detection pen hadn't worked on the bill because it was the bill was "made in 1953, something that the school officials should have considered when looking at the aging bill."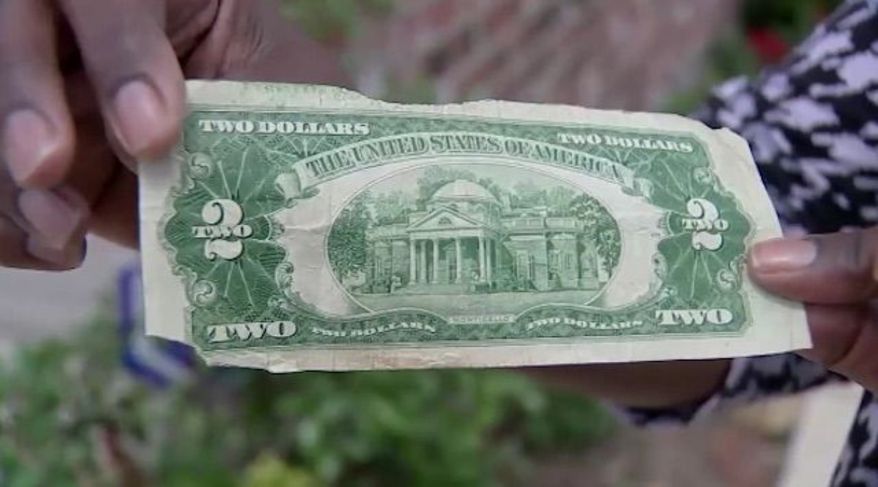 After confirming that the $2 bill was real, Danesiah was given back the $2 bill, which, to Danesiah and Sharon was understandably too little too late: "He didn't apologize. He should have, and the school should have because they pulled Danesiah out of lunch, and she didn't eat lunch that day because they took her money."
U.S. Counterfeit Bills in Canada
Canada, like the United States, is not immune from being affected by counterfeit U.S. bills. Canadian businesses, particularly those that are situated near the border between Canada and the U.S., tend to accept U.S. currency in place of Canadian currency as payment; exchange rates between the currencies are set by businesses and differ from business to business, and any change that is received from these transactions is given in Canadian currency.
As such, Canadian businesses that accept U.S. currency are at risk of unknowingly accepting counterfeit U.S. bills. If there is counterfeit US money activity in Canada, imagine just how much could potentially be happening in the United States.
The following is a short list of counterfeit money that's been reported by Canadian business so far in 2016. The list is by no means complete – there are many, many reported cases of counterfeit U.S. bills being discovered in small amounts all across Canada. This is just a sampling:
Case
Date
City
Details
A
1/29/2016
Orangeville, Ontario
A pharmacy and fast food restaurants reported that they were given fake US $20s and $50s for purchases. Police arrested 2 juvenlies in connection to these incidents. They were charged with 58 charges including possession of counterfeit currency, uttering counterfeit money, property obtained by crime, and breaches of court orders.
Source: www.orangeville.com
B
2/10/2016
Revelstoke, British Columbia
A man and a woman were caught making purchases at several different businesses with a mixture of real and fake US bills.
Source: www.revelstokereview.com
C
3/8/2016
Strathroy, Ontario
Several counterfeit US $100 bills at multiple businesses in the Strathroy-Caradoc area. Three men were arrested in connection to these crimes.
Source: www.lfpress.com
D
3/9/2016
Durham, Ontario
Small and medium-sized businesses were targeted during a flurry of counterfeit money activity in the Durham area.
Source: www.durhamregion.com
E
4/1/2016
Red Deer, Alberta
A man used counterfeit US $50 bills to purchase several prepaid VISA cards at a convenience store, another man used counterfeit US $50 bills at a liquor store, and a pair of people spent a counterfeit US $50 bill at another business. There have also been reports of counterfeit money at coffee shops, drug stores, casinos, and by taxi drivers in the Red Deer area.
Source: calgaryherald.com
F
4/13/2016
Cranbrook, British Columbia
A man and woman were arrested for possession of counterfeit money, uttering counterfeit money, and obstruction. They were also found to be in possession of a printer that was used to print out counterfeit US bills.
Source: myinforms.com
G
4/14/2016
Airdrie/Calgary, Alberta
Two people, Michael Zero and Jenna McArthur, were arrested and charged with 8 counts each of uttering counterfeit money.
Source: www.airdriecityview.com
H
4/21/2016
St. John's, Newfoundland and Labrador
Several businesses discovered counterfeit US bills had been used for purchases.
Source: www.cbc.ca

The Epidemic of Counterfeit Movie Money
Earlier this year, someone started selling counterfeit money made for movies, TV shows, and music videos on Ebay, prompting dozens, if not hundreds, of customers to purchase the funny money. For $10 (in real money), customers can purchase a stack of the fake $100 bills, delivered via free expedited shipping. As of April 6, a reported 208 bundles of the prop money had been sold so far.
Amongst other stark differences between real money and this money, the prop money has "For Motion Picture Use Only" written clearly on the front in place of "The United States of America". On its Ebay product page, there is even a disclaimer that states, "Prop money is designed for advertising, photography, and media productions. It will not pass as real currency and cannot be modified."
Nonetheless, there have been reports all across the United States of various businesses having been duped by this funny money, despite the absence of security features and the strange look on Benjamin Franklin's face.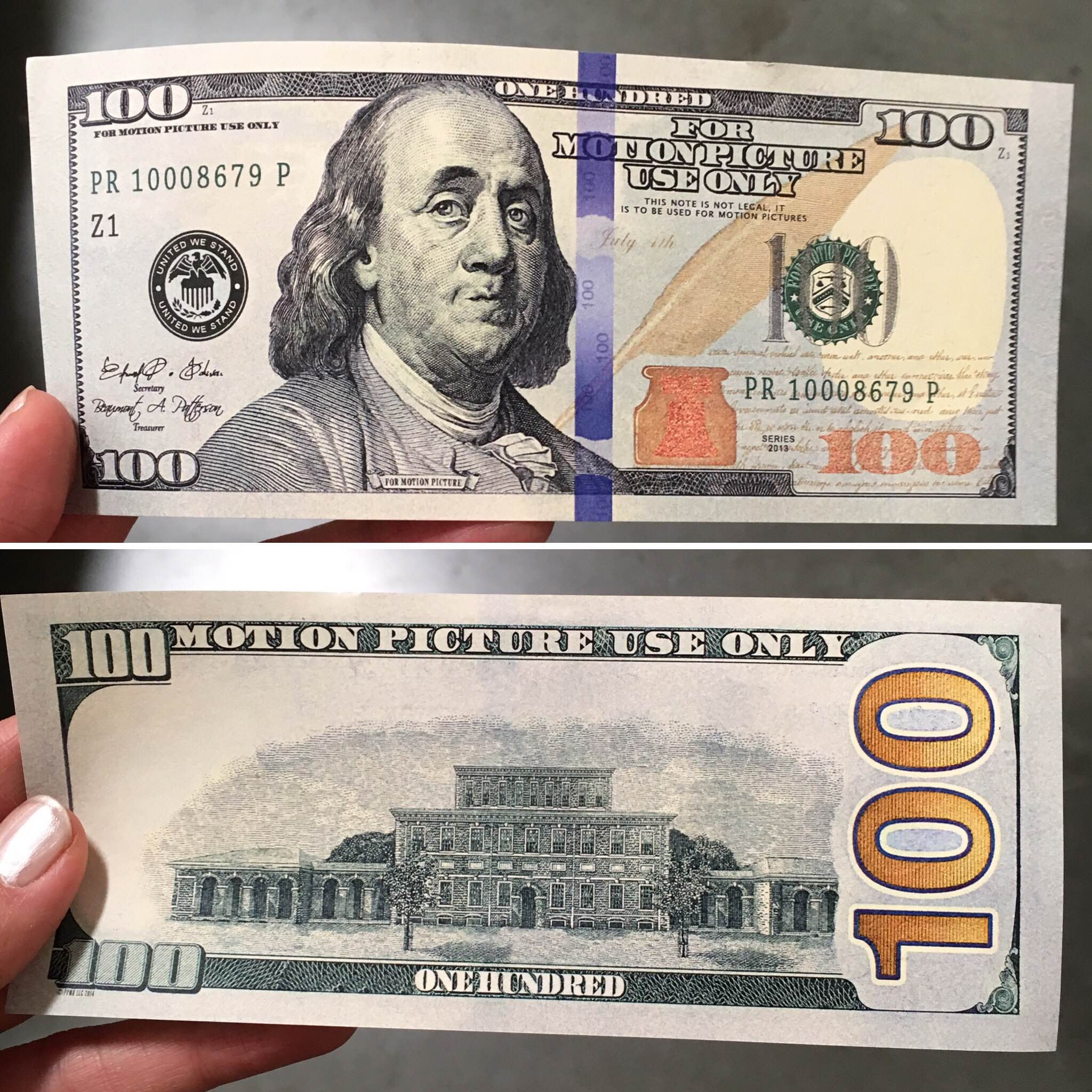 If you are a business that accepts cash for transactions, be on the lookout for $100 bills that say "For Motion Picture Use Only" and have the serial number "PR10008679P".
There have also been reports that similar bills of different denominations that are "For Motion Picture Use Only" have been being used around the country. Some of these bills also have the serial number "PR10008679P".
These stories are not meant to show how much counterfeit money criminals are capable of using, but rather, to show just how often counterfeit money is used, even if it's for a small transaction. In some cases, people unknowingly used the money, after having received the money as change from another transaction, for example. However, overwhelmingly, people have been using the prop money knowing that the money is fake, intending to use it for fraudulent purposes.
The following is a list of "For Motion Picture Use Only" instances.
Date
City
Details
1/7/2016
Bedford, VA
Amount: $900
Frequency: 10
Suspects: at least 4, still at large
Source: wset.com
1/9/2016
Hazelhurst/Monticello/Brookhaven, MS
Amount: not reported
Frequency: 3-4
Suspects: Unknown
Source: www.dailyleader.com
1/15/2016
Massilon, OH
Amount: $550
Frequency: 4
Suspects: at least 1, still at large
Source: www.cantonrep.com
1/16/2016
Green Bay, WI
Amount: $100
Frequency: 1
Suspects: unknown
Source: fox6now.com
1/23/2016
Mount Pleasant/Racine County, WI
Amount: $300
Frequency: 3
Suspects: 2 suspects arrested
Source: fox6now.com
1/23/2016
Wheeling, WV
Amount: not reported
Frequency: 1
Suspects: 1 suspected arrested
Source: www.theintelligencer.com
1/27/2016
West Palm Beach, FL
Amount: $300
Frequency: 1
Suspects: 1 suspect, still at large
Source: www.palmbeachpost.com
1/28/2016
St. John the Baptist Parish, LA
Amount: not reported
Frequency: at least 3
Suspects: 2 suspected arrested
Source: www.nola.com
2/10/2016
Springfield, MA
Amount: $120
Frequency: 2
Suspects: unknown
Source: wwlp.com
2/11/2016
Lansing, MI
Amount: not reported
Frequency: several times
Suspects: unknown
Source: www.wilx.com
2/22/2016
Blackman-Leoni Township/Jackson County, MI
Amount: $200
Frequency: 1
Suspects: unknown
Source: wlns.com
2/22/2016
Madison, WI
Amount: $100
Frequency: 1
Suspects: 1 suspect, still at large
Source: www.channel3000.com
3/4/2016
Town of Tonawanda, NY
Amount: not reported
Frequency: 1
Suspects: unknown
Source: wivb.com
3/10/2016
Boone, NC
Amount: not reported
Frequency: several times
Suspects: unknown
Source: www.wcnc.com
3/21/2016
Winona, MS
Amount: not reported
Frequency: several times
Suspects: unknown
Source: www.wtva.com
3/28/2016
Follansbee/Weirton/Brooke County, WV
Amount: $1600
Frequency: 2
Suspects: 2 suspects, still at large
Source: wtov9.com
4/6/2016
Waterloo, IA
Amount: not reported
Frequency: about a dozen
Suspects: 1 suspect arrested
Source: wcfcourier.com
4/11/2016
Aurora, KS
Amount: $2700
Frequency: 1
Suspects: 1 suspect, still at large
Source: www.9news.com
4/12/2016
Beaver Damn, WI
Amount: not reported
Frequency: several times
Suspects: unknown
Source: www.wiscnews.com
4/19/2016
Pueblo, CO
Amount: not reported
Frequency: several times
Suspects: unknown
Source: www.krdo.com
4/27/2016
Portsmouth, VA
Amount: not reported
Frequency: several times
Suspects: unknown
Source: wavy.com
4/30/2016
Bardstown, KY
Amount: at least $200
Frequency: 2
Suspects: unknown
Source: www.kystandard.com
5/4/2016
Union/Jonesville, SC
Amount: $631
Frequency: 10
Suspects: unknown
Source: wspa.com
5/6/2016
Cheektowaga, NY
Amount: $400
Frequency: 2
Suspects: 1 suspected arrested
Source: news10.com
5/9/2016
Union City, SC
Amount: not reported
Frequency: about a dozen
Suspects: 1 suspected arrested
Source: www.wyff4.com
5/9/2016
Rochester, NY
Amount: $10
Frequency: 1
Suspects: unknown
Source: www.whec.com