Financial Services Industry needs to become Global Leaders in Identity Authentication
Over the past month, we conducted a poll of compliance officers from different industries - banks, credit unions, casinos and other businesses obligated to comply with the Bank Secrecy Act ("BSA"). Our purpose was to try to get feedback about what, exactly, companies are doing as part of their efforts to "know their customers", as required under the BSA.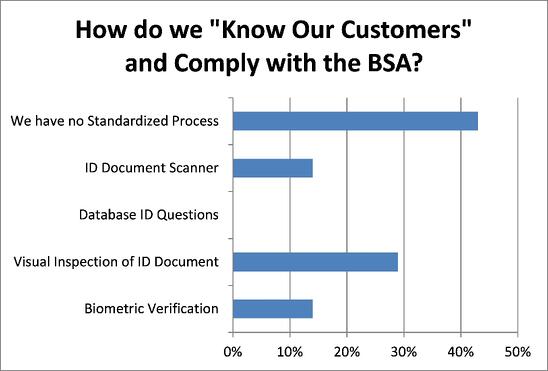 The results are both encouraging, and disturbing. Encouraging, because it appears a majority – 57% of respondents - are doing SOMETHING to try to validate identity.
However, disturbing, because it appears that a majority, 72%, are either doing nothing (43%), or continue to simply attempt a visual examination of the ID document as a means to comply with the law (29%).
As we have discussed in numerous articles, including this one here about Fake Driver Licenses made in China, identity forgery operations have become so skilled at producing counterfeit U.S. and Canadian driver licenses, that even law enforcement officers trained on what to look for can be fooled by them. In addition, as we have just written in last week's article, 37 of the 50 states in the U.S. have not made their driver license/State ID Cards compliant with the Real ID Act requirements, meaning that there are no standardized designs or security features that a teller or loan officer can easily look to for authentication purposes.
For this reason, it is our belief that the time has come for the financial services industry to step-up and take the lead on this issue.
The reasoning behind this argument is fairly straightforward:
Financial Institutions conduct the vast majority of their business on the basis that they know who they are doing business with. Exposure to losses resulting from Identity Fraud is enormous, and has been growing at alarming rates.

Financial Institution customers, in many instances, place the majority of their assets and financial worth under the protection of one organization. Banks, credit unions and other service organizations have the opportunity to secure these customers' financial future by creating a secure credential using advanced document authentication equipment and/or biometric data devices which will ensure that the branch-level employee is conducting a transaction with the actual account owner, and not an identity thief. This can have the run-on effect of securing the customer as a life-time client, who will keep their business with your institution because of the security and protection they feel.

The Federal government has already begun to crack-down, seriously, on some aspects of the BSA. Most notable have been several landmark decisions involving money-laundering and illegal funds movements. In order to stay ahead of this trend, forward-looking financial service organizations need to take the proactive steps needed to show that they are compliant with the requirements of the BSA, including the Customer Identification Program, the Red Flag Rules and the Know Your Customer requirements.

Differentiation in the marketplace. Who do you think customers are going to choose, the bank/credit union/brokerage that protects their assets and identities, or the one that makes no special effort to do so? We beleive the answer has to be - that taking practive measures to protect your customers will provide any financial institution with a point of differentiation in the marketplace.
What do you think? Please let us know in the comments section.