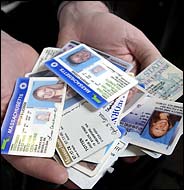 The usage of fake IDs in an in environment like a Gentlemen's Club typically is for underage drinking or illegal entry. We do not normally associate the use of fake IDs at'such clubs in order to get a job. Although not a common occurrence in the Gentlemen's Club industry, the hiring of underage performers is an issue that has recently surfaced in the public eye.A recent case in Florida, in which a 13 year old girl was hired as a performer under a fake ID, has brought the industry under scrutiny for permitting sex trafficking practices to occur under their watch. This is not a common occurrence within the industry but one isolated incident is enough to blemish an industry's reputation.
Sex Trafficking in the Nightclub Industry
As a result of hiring a performer who was not of the legal age to work in such an environment, this gentlemen's club is now facing scrutiny for enabling sex trafficking practices at their club. The owner is being held responsible because he failed to properly verify the dancer's age. Allowing a minor (a person under the age of 18) to perform in a sexual manner is sexual exploitation. This could have been prevented if the club had a type of identification authentication or age verification method implemented when it came to hiring their performers. Gentlemen's clubs that do not have a method of ID verification put into place, when it comes to hiring performers, run the risk of hiring performers who are not only using fake or stolen identifications but they may be , unknowingly, engaging in the criminal activity of sex trafficking if the performer they hired is underage.
FraudFighter Joins the Battle against Sex Trafficking!
Although this incident may have been an isolated case, the industry should be aware of the preventative actions they can implement to avoid such a case from occurring at their business. This is why it is important that Gentlemen's Clubs enact some method of ID verification when hiring their performers.
FraudFighter has partnered with the Florida Chapter of the Association of Club Executives (A.C.E) in helping to educate the nightclub industry in preventative methods that will avert such incidents from occurring. We have provided resources to ACE of ways in which nightclub owners can verify identification documents to ensure that the person they are hiring is of the legal age and of the correct identity. Additionally, we have educated the Association of Club Executives on the solutions we offer to authenticate identification documents that are used in the nightclub setting, such as a state-issued driver's license or state ID, or military ID.
At FraudFighter, we offer a solution for authenticating identification documents, named the ID-150. It is designed to verify identification documents such as state licenses, state-issued IDs, military IDs, and green cards which are commonly used as proof of identity. The ID-150 is not only a solution that could prevent a nightclub owner from hiring underage performers. In such a business environment, this solution could be useful for other identification verification purposes. The ID -150 would be an ideal identification authentication system for nightclubs to use in verifying that a person is of valid drinking age and of the valid age to enter the premises. This identification authentication machine would be a great asset to nightclubs who would like to prevent themselves from such incidents.
To get more information on how the ID-150 works and how to authenticate identification documents click here.