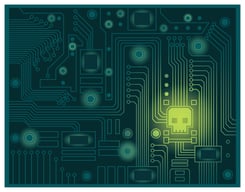 We'd all like to assume that we are quick enough to recognize a scam before falling into a trap - but many of the best phishing schemes seem credible and legitimate in the beginning. Emails are a favorite resource of cyber criminals, who use emails to trick you into providing login credentials for private accounts. So how can you know to recognize one of these schemes?
Classic examples of phishing or fraud schemes may prompt you with a bait-laiden subject line. From offering you prize money to claiming that your medical insurance might be cancelled, they will prompt you to log into your account. When opening any email, look out for whether or not your name is mentioned. When you are asked to click on a URL, hover over the link to see what the URL really is. Look for "https" at the beginning of the links to ensure security. While even the best of fraudulent emails may look legitimate with logos, privacy policies, or contact information, be wary of any emails you do not recognize.
To keep your information secure, do not click on links or attachments inside emails you feel unsure about. Calling the company (if it is indeed claiming to be a company you use) will help you determine if they did in fact send you an email correspondence.
Click here to read the full article by Robert Siciliano.