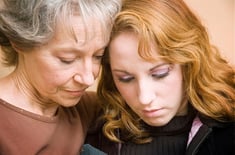 Identity theft and fraud among senior citizens is rising across the country, with many states as well as the U.S. government taking steps to help protect seniors from this risk. Why are seniors more at risk for fraud and identity theft? It may range from their distribution of personal information to generational beliefs making them more trusting of strangers. Regardless of the reason, fraud prevention for seniors is key to keeping the risk low and preventing scams from occurring.
Be sure that caregivers are vetted and trustworthy. Caregivers should undergo a background check and family members should always be cautious and on the lookout. Personal information and finances should be kept in a private location only accessible by family.
Discuss with your family members who are seniors that scams are out there. Educating them about the risks and common scams they may face is key to prevention.
Monitor your loved one's financial activity. From credit card information to bank accounts, scams may be lurking around any corner. Be sure that your senior understands the scams that they may come in contact with and that many things are just too good to be true.
Sign up your senior for identity theft protection. Whether it be through the bank, credit card company, or a third party organization, services such as these monitor financial and personal information for safety.
Click here to read the full article for Huffington Post.