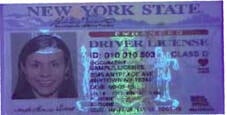 Accurate identification papers are essential to safeguarding financial and legal transactions as well as many other sensitive exchanges. Specialty ultraviolet lights are important instruments used in the fight against fraudulent presentation. The right detection tools can augment existing fraud detection practices while empowering your employees and agents with greater defenses against the use of false identity documents.
Authenticating Identity
An ultraviolet counterfeit detector emits ultraviolet light to authenticate identity documents. These counterfeit detectors can be mounted on the underside of a counter or placed on a desktop. Handheld ultraviolet counterfeit detectors, including ones the size of a pen, are ideal for field use.
Identity verification can also be achieved using forensic devices that utilize image and data capture techniques. These tools provide high-level examination of identification documents, proving authenticity almost instantly with incredible accuracy.
Government issued ID cards, including driver's licenses, may be designed to include a number of UV-reactive elements included specifically for authentication purposes. When the illumination of an ultraviolet light using the correct light source is projected onto the document's surface, reactive elements are revealed. UV fluorescence reactive be designed into official seals and logos, visible and invisible ink, microprinting, and much more. These elements are found in items such as:
Cash
Credit cards
Checks
Cashier's checks
Traveler's checks
Money orders
Passports
Government issued ID cards
Telling the Difference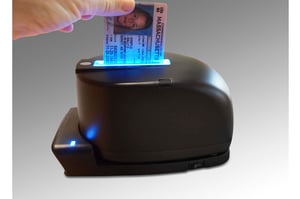 Genuine identity papers, including driver's licenses and passports, include a number of security features that are designed to resist copying and surface reproduction. Although a forged ID card might look authentic to the naked eye, most counterfeiters are not able to reproduce many of the fine details included as security features on government-issued identity documents, such as UV florescent features and tamper proof seal, microprinting, digital watermarks, and more. Most fake ID cards will therefore lack these feature .thus providing the means by which they can be detected.
Increasing Security
Companies and individual employees may face significant fines and sanctions should false identity papers be used to secure a transaction. For instance, liquor store employees, convenience store clerks, and even grocery store clerks can protect themselves and their business from selling to minors simply by using a UV light to detect fraudulent IDs. Businesses and financial institutions wishing to secure the exchange of sensitive financial or legal information can verify the identity of recipients in just seconds.
A Higher Standard
Counterfeit detectors, that use UV light to reveal UV security features, are a standard part of commercial storefronts, banks, air travel security, and many other locations. A few new scanners instantly elevate the security of an organization to a much higher standard by providing them with a procedure for identity verification.
If you are reading this on anything other than FraudFighter.com it is stolen content.
Follow us on Twitter @FraudFighterCo.
Come visit our Fraud Prevention Blog.