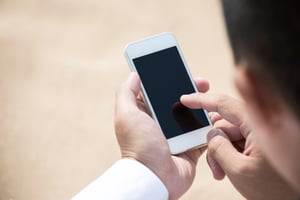 In our tech-based society, smartphones, tablets, and other mobile devices are central to our daily lives. One can confidently assume that nearly every American has a mobile device or access to one, leading us to believe that mobile will be the next frontier when it comes to identity authentication.
What would mobile mean for the face of identity authentication?
Providing mobile solutions across a variety of sectors would make ID authentication that much more accessible. The key idea here is to provide convenience and ease to end users, which might range from clerks at POS to government authorities. Mobile phones serving as authentication devices would facilitate improved identity verification systems already in place; moreover, it would likely allow for other organizations to get on board with fraud prevention solutions. ID authentication can be the core strategy for fraud prevention. Mobile options will in turn reduce the odds that thieves will commit fraud.
How would mobile solutions affect thieves?
Once mobile solutions become more mainstream, thieves will operate with the knowledge that these solutions are in place. Thieves attempting to hijack another's identity might be less likely to commit fraud in the first place when equipped with the knowledge that mobile solutions threaten their ability to defraud.
Mobile solutions are still in development, with many private and public organizations realizing the opportunities that smartphones will bring to fraud prevention efforts. What do you think about the way mobile will affect identity authentication solutions?
If you are reading this on anything other than FraudFighter.com it is stolen content.
Follow us on Twitter
@FraudFighterCo.

Come visit our
Fraud Prevention Blog.