Modern counterfeit detection relies on a wide range of specialized detectors, but there is a surprising range of options out there. Most counterfeit detectors fall into one of two major categories, UV detection and automatic detection—but which is right for your organization?
UV Detectors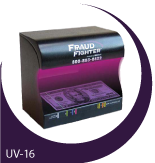 Ultraviolet detectors consist of a UV bulb that makes special security features visible on currency and secure documents. Often the unit comes with a reference guide or placement strip to indicate where the security features should be located, as well as a shaded viewing area that can highlight the UV features even in brightly lit areas.
These devices can be mounted under a shelf, on a wall, behind the counter, or directly at the point of sale, making them ideal for retail establishments. Portable units can be moved from place to place as needed, meaning they are a great choice for large public events, bars, or nightclubs. Manual UV detectors can even take the form of simple penlights, ideal for law enforcement personnel and other on-the-move professionals who need to make quick determinations.
UV detectors also have the advantage of being able to verify a wide variety of documents, including:
Passports
Drivers licenses
Credit cards
Birth certificates
Money orders
Their lower cost also makes them ideal for a wide variety of applications.
Automatic Detectors
On the other hand, automatic detectors are designed specifically to check currency. Bills are fed into the machine, which verifies a variety of security features such as thickness, weight, image quality, and magnetic and infrared indicators.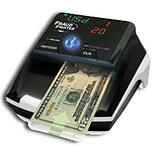 Automatic detectors are ideal for high volumes of cash, since they can check dozens of bills a minute and even add up the total value of the money counted. They can be configured to test many different types of currency, making them ideal for multinational endeavors, and do not require any employee training on security features. This virtually removes the potential for human error.
In the end, both UV and automatic detectors have a place in the fight against counterfeiting. The right option for your organization will depend on your specific needs.
If you are reading this on anything other than FraudFighter.com it is stolen content.
Follow us on Twitter @FraudFighterCo.
Come visit our Fraud Prevention Blog.