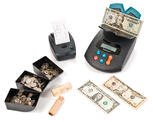 Money counting is a matter of time and accuracy. Either you save time with the CountEasy(tm) Scale - and therefore save money - or you spend an inordinate amount of time hand counting the cash registers at the end of the day and therefore lose money. When you consider the likelihood of necessary recounts, inaccuracies, mistakes and theft that occur when counting by hand instead of using money counting machines to end your store's operation for the day, the opportunity to save money becomes magnified even greater.

Consider your business. If you have several cash registers to close-out every shift, the process requires a cashier or office worker to hand count the money. Each drawer can take up to fifteen minutes to count down. Multiply that by 4 registers and you've spent an hour counting down the drawers. If you have more tills to count the time increases to the point where a fair part of the day is wasted counting the money. Using a CountEasy(tm) scale would reduce that time to as little as ten minutes to count all four drawers. The employee time saved can be put to better use like interfacing with customers or tending to the shop.

Take a look at the following example of an average store with only 2 registers to set up and count down.
2 Cash Registers

# of tills counted per day:

4

Avg Hourly Pay Rate - Office: Avg.

$7.50

Avg Hourly Pay Rate - Cashier:

$10.00

Description

Current Method

Count Easy

Daily Savings

Time to Set Up Till - (Min)

3

1

2

Avg. Time to Count Down Till - (Min)

15

1

14

# 0f Tills Counted/Day

4

4

4

Time Spent/Day Counting Tills - (Hrs)

1.200

0.133

1.067

Hourly Pay Rate - Checker

$7.50

$7.50

$7.50

COST/DAY to COUNT TILLS

$9.00

$1.00

$8.00

Avg Time to Count Cash Office - (Min)

20

3

17

Avg Time to Cnt/Verify Bank - (Min)

20

2

18

Avg Time to Cnt/Verify Deposit - (Min)

20

3

17

Time Spent/Day -- Office Count - (Hrs)

1.000

0.133

0.867

Hourly Pay Rate Office

$10.00

$7.50

$10.00

COST/DAY--OFFICE COUNT

$10.00

$1.33

$8.67

DAILY SAVINGS with Count Easy

$16.67

Savings/Year to Operate with a COUNT EASY

$6,083.33
Assuming the business is open year round, note that the time spent setting up and counting down just two registers per day, amounts to over 365 hours in a year!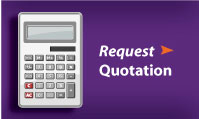 Customers that have used the CountEasy for money counting not only save time, but they have found that both mistakes and theft have been greatly reduced. This benefit goes beyond the cost of ownership (or purchase) of a CountEasy and puts profit back into your pocket instead of in the banks or your employees' pockets.
The system is so easy to use that there may not be a need to have a dedicated manager counting down the money. Used in combination with a time deposit safe on site, cashiers can simply count down the till and deposit the the day's deposit directly into the time safe.

Safe, simple, accurate and secure are the hallmarks of a CountEasy scale. When it comes to money counting, those are the words every business owner wants to hear.