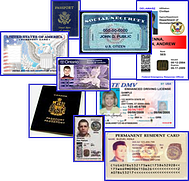 At the heart of many acts of fraud lies the intentional misrepresentation of identity. When ORC crime rings are attempting to infiltrate your company with "inside" employees, often the first, best step to take to prevent this from happening is to authenticate the ID document(s) presented by the individual.
Loss prevention begins with human resources. Hiring criminals means bringing the organized crime ring into your own house. Preventing this from happening is a multi-stage process which must begin with authentication of identity documents. Only after identification has been confirmed does it make sense to proceed with back-ground checks and reference-checking.
Fraud Fighter's line of "ID Document Image Capture and Authentication" equipment is ideal for these purposes. These machines are capable of scanning driver licenses and other identifying documents, capturing high-resolution images of the ID, reading the stored information from the ID, and conducting high confidence authentication of the ID. With customization, the data read from the ID can be automatically pushed into employee records, and the images of the ID documents can be stored in encrypted files to prove adherence with Federal I-9 hiring requirements.