Counterfeit money crime has reached pandemic proportions. No longer affecting just the United States and Europe , it has spread all over world - countries as unlikely as The Republic of the Gambia are now reporting growing awareness of this threat. Imagine – this tiny country in West Africa , less than 30 miles across at its widest point and the smallest nation on the continent, convening a special conference on "Banknote and Currency Management," with special attention paid to securing newly-developed currencies from counterfeiting.
Amadou Colley, the head of the Central Bank of The Gambia, reflected during the conference on the need for preserving the country's currency. "The integrity of the currency and efficient supply of banknotes are indicators of a well-functioning central bank" he said, adding that counterfeiting is among the biggest threats to it – and one of the most expensive to resolve.
His words were echoed by another promiment member of the conference, the Director General of the West African Institute for Financial and Economic Management (WAIFEM), who sraight out said "photographic and computer technology, as well as printing devices, have made the production of counterfeit money relatively easy." When one of the most important banking administrators in West Africa starts mentioning counterfeits, you know it must be serious.
Color printing is in fact one of the biggest facilitators of counterfeit money. Enterprising fraudsters use high-grade copiers to make convincing counterfeits that would pass the first-glance test (although obviously none of the actual security-feature tests). One such group of fraudsters, consisting of two men, ages 22 and 40, was caught in Atlanta and charged with printing more than $900,000 in fake bills. The duo, plus a woman convicted earlier, used the above-mentioned color printers and resume paper to create the fake cash.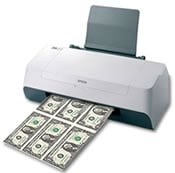 There is yet another international connection here. Rather than using the fakes themselves, the Atlanta fraudsters were allegedly planning to sell off their stash to Mexico , or trade it for drugs. We have mentioned Mexico in earlier posts, noting how it contributes significantly to the problem of money laundering and the counterfeiting of $100s – and this is indeed more of the same. Mexican drug cartels are one of the largest sources of counterfeit dollars circulating around the United States – some of it manufactured and some, as this case seems to be, bought.
What can you do to protect your business against the flood of counterfeit money? First, you should understand that the problem is prevalent in every corner of every land: counterfeiters are just as likely to strike small town mom-and-pop shops as they are small West African nations. And second, develop a comprehensive fraud-prevention policy. A good counterfeit detector in the hands of a properly trained employee will be your best deterrent against multinational counterfeiting rings.