Retailer promotions are always in danger of being subverted by fraudsters. Take for example the tried-and-true coupon method: manufacturers or local business try to attract more new customers with a coupon discount, but fraudsters catching hold of those coupons create counterfeit versions changing out the amount discounted, the expiration date, or sometimes the actual product to which the coupons applies. Then they either sell the altered coupons to the public at large, or try to use them themselves.
This hurts the business in particular a number of ways: if they accept the fake coupon, they lose money on an illegitimate discount; if they reject the coupon, they risk alienating their customers – many of who, after all, sincerely believe the coupon they are presenting is real. Worse still, the high potential for abuse leads many business to avoid the internet as a way to distribute coupons – which risks driving up costs and limiting the exposure the coupons get.
Frito-Lay faced this exact problem last year, as the internet b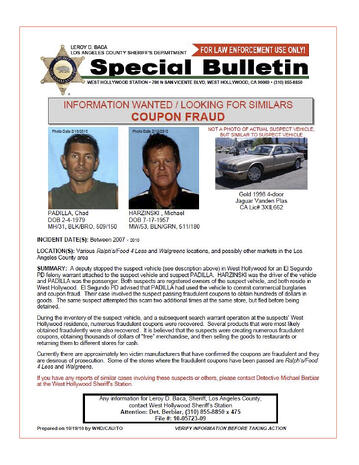 ecame awash with coupons for free Doritos tortilla chips. Consumers would bring in the coupons legitimately believing they were to get a free bag of chips, and rather than risk turning them out right at the point of sale, Frito-Lay decided to honor the coupons, sharing the costs with the retail sellers, while attempting to educate the buyer on the difference between real coupons provided by the company and counterfeit ones.
Frito-Lay was hardly the last, or the even the largest, brand to be hit with counterfeit coupons. In fact, a running tally by the Coupon Information Corporation, a non-profit association of consumer goods manufacturers, lists among others Energizer, Nestle, Procter & Gamble, and even Coca-Cola – and those are just over the past several weeks. Retail fraud through coupons makes up one of those little-known, but nevertheless significant losses faced by merchants.
Fortunately, there are ways of mitigating this crime. Some merchants have turned to creating hidden security features on their genuine coupons – similar to those found on U.S. currency and official documents. The obvious advantage to this is that coupons can be authenticated with the same scanning technology already used in checking for counterfeit money. Coupon-checking thus presents one more use of regular counterfeit detection devices – for instance, UV-light detectors – already in use and at very slight to no marginal cost.
Authentication is only one-half of a solid strategy, working best when paired with a good identity verification campaign. Checking buyers' identities – a good idea under most circumstances anyway, and a very strict law when it comes to age-restricted sales – becomes absolutely indispensable in light of the possibility of hundreds, or thousands of dollars lost to retail fraud. This solution can range from simply validating the ID presented, to validating and cross-checking against a database of known fraudsters, to validating and capturing the information, as is required in certain types of "covered" transactions.
Coupon fraud is but one part of the multi-headed retail fraud hydra. There are many more issues at work here – but an effective solution need not change to fit each of them. The key in every case is twofold: verify method of payment, and verify identity of the person presenting the payment. Secure that, and the rest will follow.