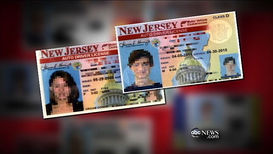 Recently, in Brooklyn, a man successfully made a $1,500 purchase using fake identification at a department store. It was not until he tried to continue his identity theft spree at a nearby Best Buy that he would be caught. Shortly after his successful attempt at Kohl's, the man attempted to make a purchase at a Best Buy store, where the suspect tried purchasing $945.32 of merchandise on an existing store-credit-account, without presenting the card. He asked the cashier to look up the card information using his name and date of birth. In order to verify his identity, the employee asked him for his drivers license. The employee recognized the New Jersey DL that he presented as a fake. After notifying the store manager, the authorities were called and arrested the suspect.
Would you have been able to tell if his ID was a fake?
The employee was able to thwart this attempt to access an existing Best Buy customer's credit account by verifying the ID document. This incident illustrates that identification verification is an imperative first step in protecting your business from fraud. According to The Fraud Practice "identification verification is the lowest common denominator in risk management. "(Montague). With Identity theft currently experiencing exponential rates of growth, businesses should at least verify customer ID documents during each transaction.
Identity theft is massively on the rise globally. Technology has made the world more interconnected which has made it easier for hackers from any part of the world to compromise company data or personal data. The epidemic of mass data breaches has fundamentally changed the game for prospective ID thieves, because criminals can now buy professionally manufactured forged IDs featuring the genuine Personally Identifying Information (PII) of the victim whose assets they are trying to steal. Experts have estimated that in the past three years, between 73M - 150M people have had their sensitive personal information lost or stolen. (Lexis Nexus) The risk of accepting purchase made with stolen ID documents is higher than ever.
So how can you tell if an ID document is real?
There are over 1100 different ID's in the US, which is far too many for one employee to recognize. BestBuy uses FraudFighter products which are capable of helping store level employees to verify driver licenses and other ID documents. . We don't know if that's how they caught this ID, but we do know that you will have better luck if you equip your frontline employees with the right products to protect your business.
There are several different methods and products available that are great tools for helping employees verify identity documents and prevent losses from identity theft. These products range from the simple and low-cost (low tech) end of the scale, up to more complex and technologically advanced solutions that allow the organization to capture and store data about the ID document, and to generate a customer credential based on the data.

What can you do to protect yourself?
Many state IDs and driver licenses include security features that only can be seen under an ultraviolet counterfeit detector. Checking for the presence of these security features allows you to verify their authenticity. FraudFighter includes a line of Ultraviolet Counterfeit Detectors that suit any type of business environment. We also carry a reference guide available named the Driver License UV Security Feature Reference Guide that shows what each state driver license should look like under an Ultraviolet detector to help employees verify a person state driver's license.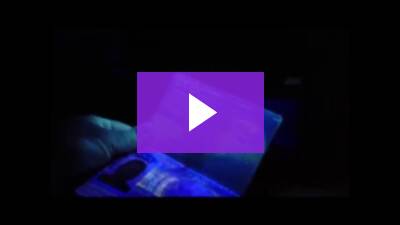 Watch to see how to verify ID documents using an UV counterfeit detector.
Another method of identification verification is to use a solution that digitally captures image and data from the ID. Forensic authentication of the document is conducted by analyzing the data captured from the ID document. Image capture and Authentication solutions are highly accurate and do not require the employee to interpret the authenticity of the customers ID document.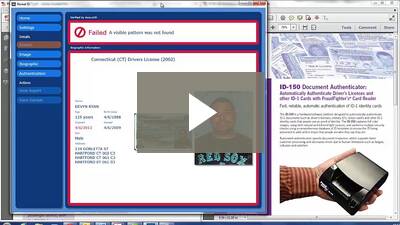 Watch to see how identification verification works by ID capture & authentication