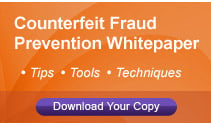 Here are three easy steps you can take, right
now, with no cost and very little time investment to help your employees learn how to better detect fake money:
Order or download the Department of Treasury's Multi-note booklet and poster to learn how to detect counterfeit money by memorizing the security features on the $5, $10, $20 and new $100 dollar bill. Their are free versions for download and larger, full color, posters and booklets you can order. Keep them in a conspicuous place in the back room to reinforce the training.
Have every employee view each of the denominations in front of you and ask them to identify at least three security features on each bill. This simple exercise will give you the opportunity to point out other security features they may not be aware of and to reinforce their knowledge of the features they do recognize.
Instruct your people that handling money is about paying attention. Practice with the employee by handing them some bills in combination such as 2 $20's, a $10 and a few $1s and ask them to organize the money according to denomination. Next, ask them to "face" the bills. Facing currency means turning every bill face up and pointing in the same direction (i.e. standing at the register, make sure every president faces the door or window of your store). By facing the bills, you're asking the employee to view each bill and determine its denomination.
Be aware that proper cash handling is the first step in how to detect counterfeit money. With proper cash handling techniques coupled with knowledge of the security features, your employees will be an asset on the front line of detecting counterfeit money.

Here Two Important "DON'TS".